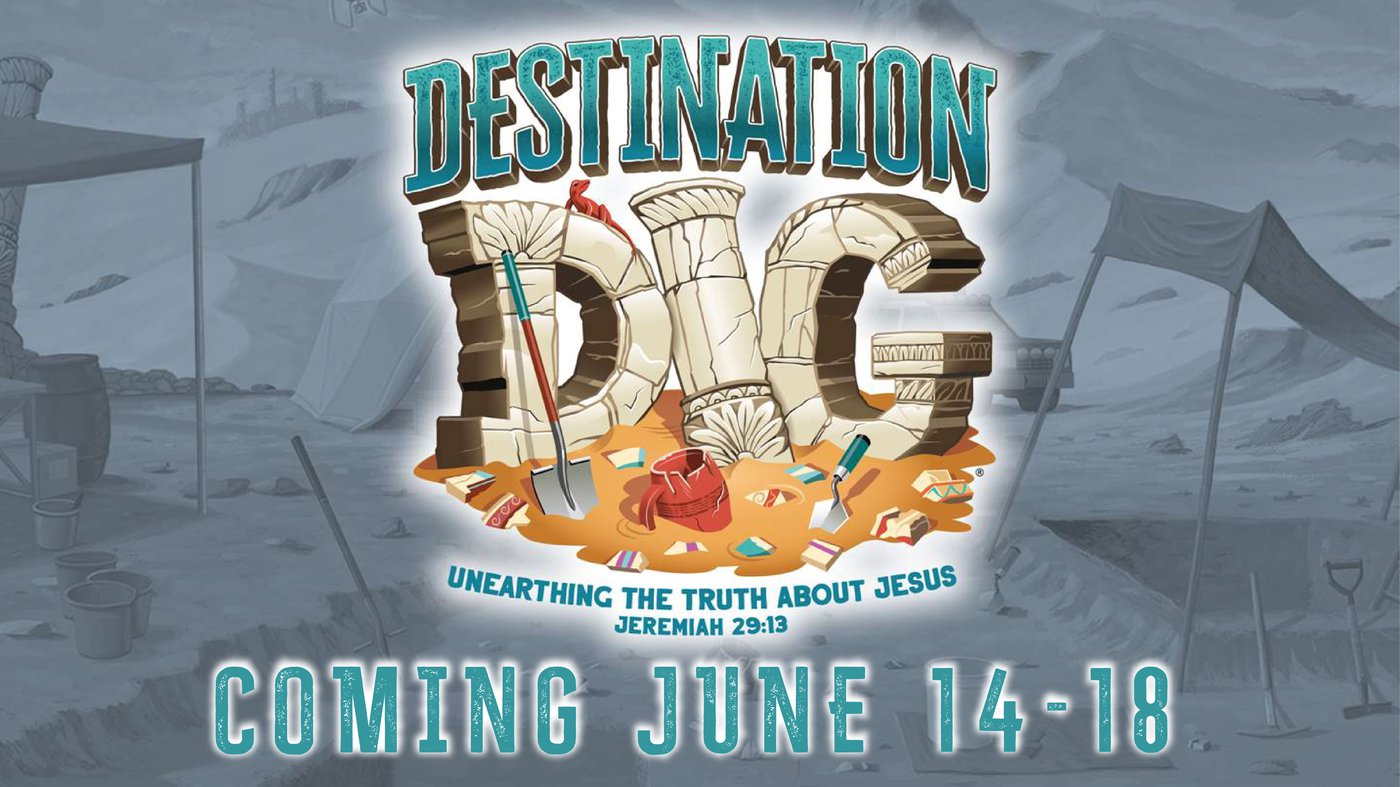 MONDAY - FRIDAY FROM 8:45 AM - NOON
NOTE:
As part of our new registration process, a parent must register along with the kids so that we have family information but that doesn't mean the parent is coming to VBS.
Kids ages 5 years to 4th grade* are invited to the best week of their summer! Join us for DESTINATION DIG, - a fun-filled week of crafts, music, recreation, snacks, and Bible lessons all centered around an archaeology theme!
Everything is free and VBS is open to the community. Plus every family who signs up gets a free DESTINATION DIG CD with all of the songs we will be learning during the week.
NOTE TO PARENTS: VBS at Calvary is designed to help Calvary families invite children from the community, who don't have a church home or have not had the opportunity to attend a VBS or summer camp, to a program where they might for the first time hear the good news of Jesus. If your family attends a different church in town where they regularly learn about Jesus, your kids will be placed our waiting list so that we can serve kids without a church home first. Once we have given time for community kids to sign up, we will fill open spots with children from other churches. Thank you for your understanding and cooperation.
*2020-2021 school year
SIGN UP TO VOLUNTEER USING THE REGISTRATION LINK
FAQs
How will my child know what class they are in?
About a week before VBS, you will get am email with their teacher's name and their class color. When you arrive at Calvary on the first day of VBS there will be colored paths leading to each classroom. Just follow your color to the room. Parents must accompany their kids to their class on their first day to get their security coupons.
Can I request to have my child in the same class as a friend?
On the registration form or when you register online, you can request for your child to be with a specific friend or even a specific teacher. We will do our best to honor those requests. However, we make very few exceptions for moving children to different age groups. Our classes are divided into these groups: 5 years old, K, 1st/2nd, and 3rd/4th. If they request to be with a friend in the same age division, we should be able to put them in the same class.
What should my child wear?
All week long the kids will be participating in fun indoor and outdoor games, making crafts, etc. so dress your kids in comfortable play clothes. Shorts, t-shirts, sandals or running shoes are best.
What if my child has food allergies?
Be sure to list any allergies on their registration form. Our snacks leaders will have alternative snacks for children with allergies. There will also be a snack info table in the lobby. If you have concerns about our snack time or would like to pack your own snacks, please call the church.
What if my child has special needs?
We have wonderful helpers who we match up one on one with children who need a special friend. If you think your child would benefit from a special friend, please contact us.