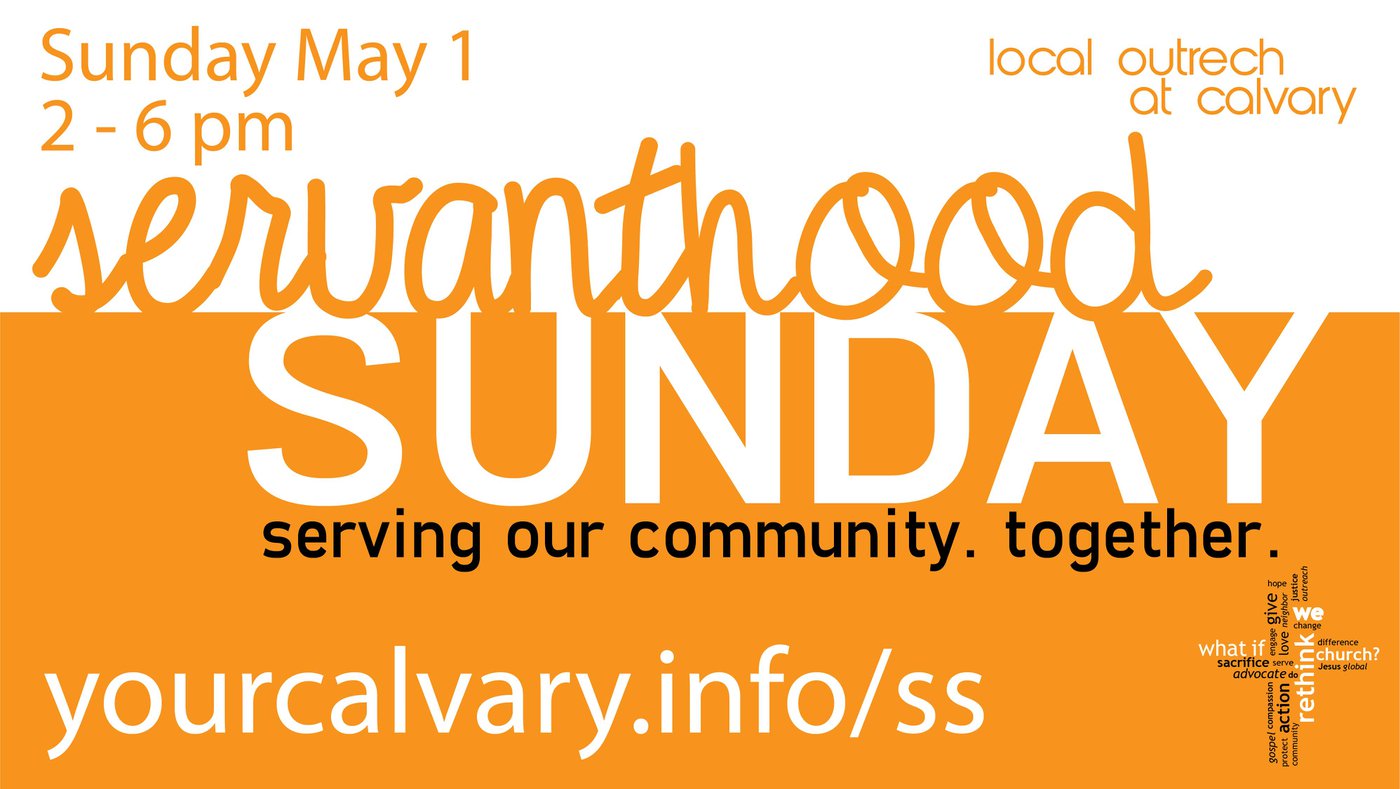 It's time for our spring Servanthood Sunday! This is a day when teams from Calvary go all over our community doing projects - some outside and some inside - hard labor and not so hard labor - but all to love our community in the name of Jesus. Sign up for the project team you want to be a part of. If all the projects you want are filled, sign up under general projects and we will add some more projects.
Meet at the church at 2 pm for instructions and prayer, and then head out with your team. We will also have some work around the church for those not on community projects.
NOTE: If you are bringing kids with you to a project please do not individually register them because it will confuse the capacities for the number of people needed for each project. When you register there is a space to include names and ages of kids who are participating.
Afterward, we will all meet back at the church at 5:45 pm for free pizza and a time of sharing stories and pictures from your team project.
MAY 1 PROJECT DESCRIPTIONS
Burnett Creek Elementary Clothing Closet
This team will go to Burnett Creek Elementary School (5 min from Calvary) to help sort and organize clothing in the clothing closet.
Freezer Meal Prep
This team will stay at Calvary and prepare dozens of freezer meals that will be given to local DSC workers, Heartford House staff, and VBS volunteers. Must be 16 and up unless with a parent.
Heartford House Landscaping
This team will go to Heartford House (15 min from Calvary) to help clean up the garden beds, add new mulch, replace dead bushes/flowers, etc. Learn more about Heartford House at https://www.heartford.net/
Klondike Elementary School Gardening & Landscaping
This team will go to Klondike Elementary to work on their courtyard area, cleaning it up, and landscaping.
Isaiah 117 House Lemonade Stands
This project is a great idea for families to do alone or together with friends. We will provide paper products, lemonade mix, posters, and flyers for kids to set up a lemonade stand to raise money for Isaiah 117 House - a new ministry in Tippecanoe County that helps kids. Learn more about Isaiah 117 House at https://isaiah117house.com/. Contact Amy Anthony at [email protected] for ideas about where to set up a stand or if you want to wait until the summer weather to have an Isaiah 117 House lemonade stand. This is an ongoing fundraiser idea that they do to support the ministry.
Lafayette Transitional Housing (LTHC) Painting & Landscaping
This team will go to the family housing at LTHC (15 minutes from Calvary) to help with indoor painting in their family housing and outdoor spring clean-up. Learn more about LTHC at https://lthc.net/.
West Lafayette Elementary School Painting numbers on the parking lot, Outdoor clean-up
This team will go to WLES (5 minutes from Calvary) to help with weeding, mulching, trimming trees, fixing edging etc.
On Your Own Ideas:
Here are some other ideas for serving during the week. If you need help with funds for a project, or if you have other ideas to share, contact Amy Anthony at [email protected]
Build a little free library in a local neighborhood (see Pinterest board)
Do some weeding in a public space (with permission if needed) like the entrance to a neighborhood
Have a garage sale or lemonade stand to raise money for a local organization like Matrix, LTHC or one of our global partners like Living Water or Project House of Hope.
Find a stretch of road and pick up trash.
Take fresh cookies to a fire station or nurses station.
Leave an encouraging note on someone's car.
Take a day to make some personal phone calls to check on people.
Pay for the person in line behind you in the drive through.
Send an encouraging card to the staff of another local church.