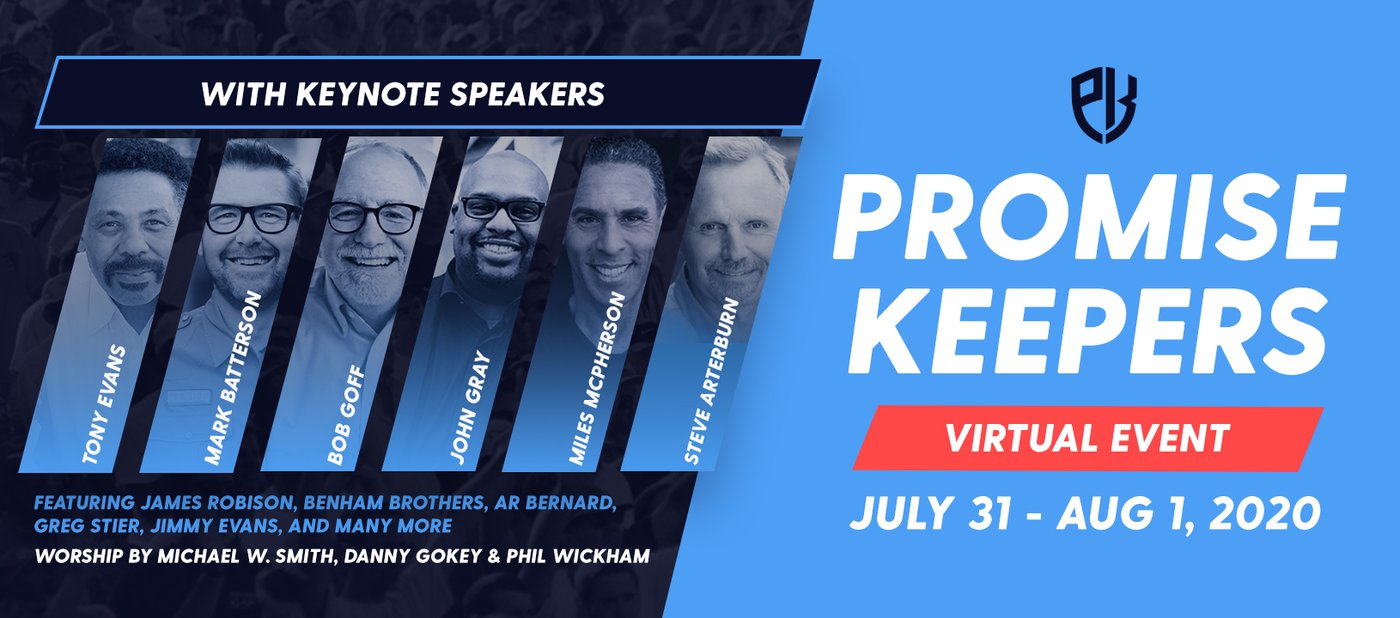 Promise Keepers Simulcast
Unite with communities across the country for a virtual experience that will empower the nation to stand stronger and walk with Christ. Promise Keepers 2020 Men's Conference will be a Global Virtual Event broadcast on Friday, July 31st (6-9pm CT) and Saturday, August 1st (9-12pm CT), 2020. This is a chance to bring the men together to experience God in a powerful way. Keynote speakers will inclue Tony Evans, Mark Batterson, Bob Goff, John Gray, Miles McPherson, Steve Afterburn and more! Worship by Michael W. Smith, Danny Gokey & Phil Wickham.
About Our Men's Ministry
Sometimes being the kind of man we want to be (and that God wants us to be) can be difficult.
It's easy to feel isolated or disconnected...from our spouse, kids, and co-workers. This is why we need men in our lives that can walk alongside us, as we walk with Jesus.
Our goal is to be a place where man can connect with other guys, be encouraged, and challenged in our walk.
"Iron sharpens iron, and one man sharpens another" Proverbs 27:17
Our goal is to have smaller groups of men who are doing life together. These groups are not social groups, or clubs, or therapy groups. They are groups of men that are coming alongside one another in all of life. We understand that men have a lot going on so we do not want this to be another event to add to your calendar. We hope it is something that helps you mature in your faith, lead your family well, have men in your life you can count on, and flourish in all areas of your life.
CURRENT MEN'S GROUPS
Starting in Fall 2019, these groups launched with the hopes of multiplying into more groups for 2020. Fill out the form below if you'd like to join one of our groups or none of these groups fit your schedule, or you know 2-3 guys you could start a group with. Contact Drew Phillips at [email protected] for more information about men's ministry at Calvary.
First WEDNESDAY of the Month
Meets 7:30pm @ WL 9 Irish Bros
Phil Walley
Fourth THURSDAY of the Month - Starting January 2020
Meets 6:00pm @ WL Panera
Lane Yahiro
Fourth THURSDAY of the Month
Meets 7:00pm @ Carroll/White County
Dave Swain
Second THURSDAY of the Month
'Wings of Wisdom'
Meets 8:00pm @ WL Wings, etc.
Ben Shepard & Travis Cedars
First and Third FRIDAY of the Month
Meets 11:30am @ WL Panera
Drew Furry & Michael Budd
Second SATURDAY of the Month
Meets @ 8:30am @ WL Christo's
Brian Seekatz & Mike Brzezinski
Third SATURDAY of the Month
Meets 8:30am @ Cafe Literato
Chris Parker & Ross Haymond
Complete the form to get started